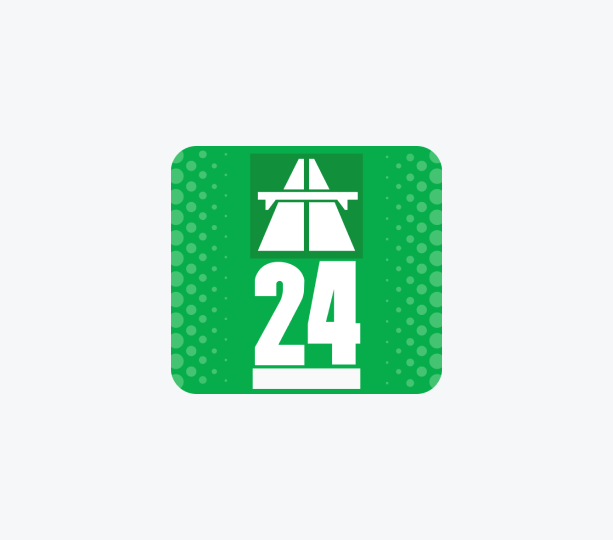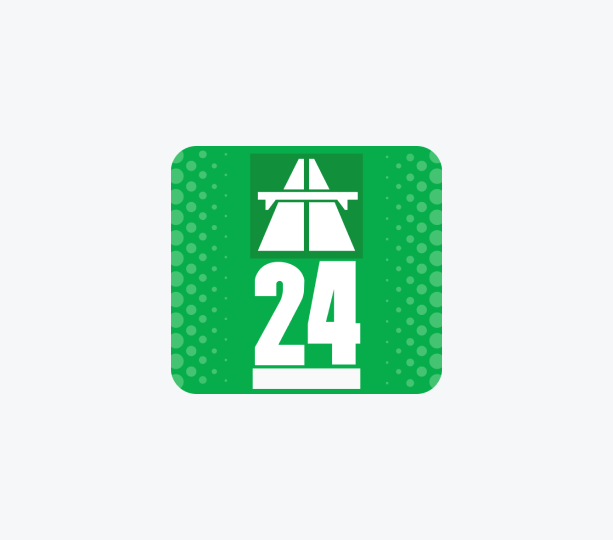 In Switzerland there is a vignette obligation for all motor vehicles and trailers with a total weight of up to 3.5t on all motorways and national roads class 1 and 2. Buy your vignette for Switzerland here and you are free to go.
Important notes for use
The paper vignette is an adhesive sticker delivered by mail, which must be affixed on the windshield to be valid.

The paper vignette for Switzerland is valid for vehicles up to 3.5t. An additional vignette is needed for trailers with a total weight of up to and including 3.5t.

There are no daily, weekly or monthly vignettes, only annual vignettes.
Validity and Use
There is only the 1-year vignette valid from 1 December of the preceding year until 31 January of the following year, i.e. 14 months.
Affix the vignette immediately on receipt.
A valid undamaged vignette affixed on an untinted area of the windscreen interior is the only acceptable substantiation that the toll has been duly paid. Using motorways and expressways without a valid vígnette properly affixed on the vehicle is an offence against the Public Highways Act and is punishable with cash fines of at least 200 Franks.
In case of interchangeable license plates, a second vignette for the other vehicle is required.
In case of exchange of license plates, the replacement vignette can be obtained from the Federal Office for Customs and Border Security Switzerland.
Motor homes up to a total weight of 3.5 t also require a vignette. Where the total weight is greater than 3.5 t, the vehicle is subject to a lump-sum heavy vehicle fee and payable for using any of the public roads at any time of stay in Switzerland. For further information, visit the Federal Office for Customs and Border Security Switzerland
Vehicles of a total weight above 3.5 t and used for commercial goods traffic are subject to a performance-related heavy vehicle fee (HVF).
Tunnels not included in the vignette price
The vignette price does not include driving through the following tunnels. A special toll must be paid here.
Grand St. Bernhard Tunnel

Munt la Schera
What our customers say
Fantastic customer service and value for money!!
We have been using tolltickets for 11 years and just wanted to highlight how amazing a service they provide. We travel regularly through Italy, France and Austria and do not lose any time queuing - makes vacations stress-free. We have never had any technical issues, or packages lost, for over 10 years, great service.
Thank you all at the tolltickets team :)
Fantastic Customer Service.
We ordered well in time prior to our travel.
However due to postal strikes & brexit, they didn't arrive on time.
Tolltickets were very understanding, and very helpful. Everything was done via email. They respond almost instantly. I wish more companies were like them, The world would be a better place if everyone worked to their standards. Thank you so much for your prompt responses, 1st class Customer service and the politeness of your whole team. We will definitely use you again next time we need the tollticket machines. Kind regards, Mr & Mrs Watson
I have been using Tolltickets for the past 5 years and they have been consistently super efficient. Their customer service has always been very good and delivery of Swiss vignettes extremely prompt and have never had any problems with picking up my toll boxes nor any problems with paying the invoices.
We had been using the toll boxes for France and Spain from the company tolltickets for many years. Purchasing and installing the devices was very uncomplicated. The devices always worked perfectly at every toll station. The billing of the toll costs was carried out in a way that was absolutely comprehensible and was always correct. Within one day, we received competent, friendly and solution-oriented answers from the support team to inquiries by e-mail. Over the years we have always had a positive impression and can highly recommend this company and their products. We no longer need the toll boxes, but we would like to thank tolltickets for the very pleasant cooperation!
Franziska Steiner Wermuth
Have been using the transponder in Italy since 2020. So far there have never been any problems. Inquiries to tolltickets are usually answered promptly.
Within a week, the sticker was shipped to me, very fast! And what is, for any additional questions, very quickly answered, and well detailed. I would recommend later on this site. 👍🏼