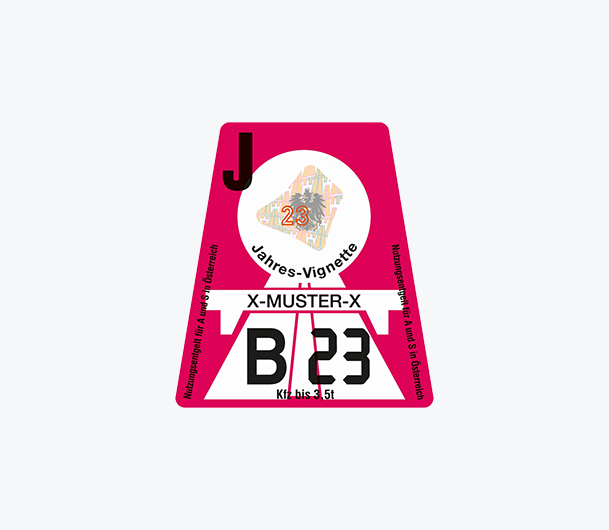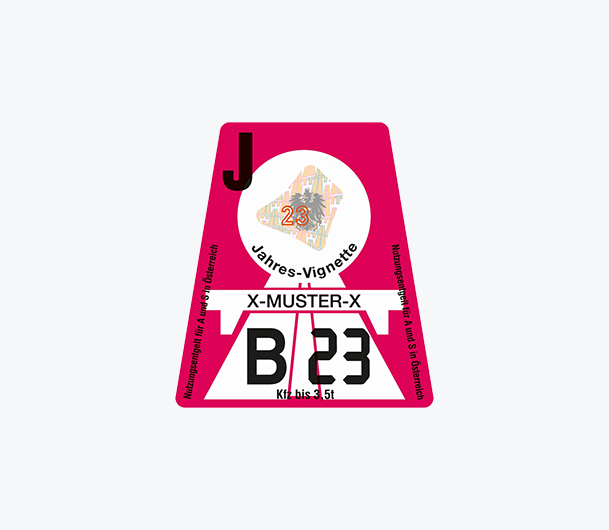 In Austria, all motor vehicles up to and including 3.5t are required to display a vignette (which is either a paper vignette or an electronic vignette) on all freeways and expressways. Buy your Austrian paper vignettes here and you are free to go.
Compare with other options
Show pricelist from partners:
AVD Pricelist
All prices provided for members of AvD.
Important notes for use
The paper vignette is an adhesive sticker delivered by mail, which must be affixed on the windshield to be valid.

The Austrian paper vignette is valid for all vehicles up to 3.5t. Vehicles over 3.5t require a toll box in Austria, the so called "GoBox".

Special video based toll routes (e.g. Brenner/Tauern) cannot be charged neither with the toll box Italy, nor with the Austrian paper vignette. More information below.

Austrian paper vignettes are excepted from the right of withdrawal from purchase, since they are products personalized for a specific vehicle (except for the yearly vignette, which is not personalized).
Validity and Use
Attachment of the paper vignette
Affix the paper vignette immediately on receipt.
The paper vignette is only valid, if it is affixed to the inside of the windshield and outside a tinting strip. An undamaged toll sticker provides proof of proper toll payment. The validity of a time-based toll depends on the period indicated on your ticket. Available are vignettes for: 10-days, 2- months or 1-year. A cash fine of up to € 240 is levied, if a vignette is not affixed properly. If the fine is not paid immediately on the spot, administrative penal proceedings will be initiated, which involve considerably higher costs (€ 300 – € 3.000).
Austrian paper vignettes and digital vignettes
Vignettes for Austria can be purchased in digital form and as an adhesive paper vignette. At tolltickets, the vignette for Austria is only available as an adhesive vignette. The digital vignettes for Austria can currently not be purchased from tolltickets. The paper vignette has the advantage for private persons, since it can be used immediately after receipt, whereas the digital vignette can be used as early as 18 days after ordering.
The digital vignettes are available since November 2020. This has the advantage that you no longer have to stick and scratch off the annual paper vignette for Austria. In addition, you have the option of buying the digital vignette for Austria at any time and regardless of location. This is a clear advantage for owners of interchangeable license plates; even in the event of a broken windshield.
Exceptions
Exceptions of the vignette obligation
The following highway sections are excepted from the vignette obligation (at least temporarily) as of December 15, 2019:
toll section A 1 West freeway between the state border at Walserberg and the Salzburg Nord junction

toll section A 12 Inntal freeway between the state border at Kufstein and the Kufstein-Süd junction (Tyrol)

toll section A 14 Rhine Valley/Walgau freeway between the state border at Hörbranz and the Hohenems junction

A 26 Linz freeway toll road (currently still under construction)
Video based route toll
Exceptions for the vignette obligation are also sections with mileage-dependent tolling (special toll sections). For these freeway sections, an extra fee is incurred, which can be easily paid through the digital route toll or on site by credit card. You can use the following link directly to the Austrian toll operator ASFINAG and buy a video toll card in advance: Special toll
A9 – Pyhrn Motorway: Bosruck Tunnel

A9 – Pyhrn Motorway: Gleinalm Tunnel

A10 – Tauern Motorway: Tauern and Katschberg Tunnels

A11 – Karawanken Motorway: Karawanken Tunnel

A13 – Brenner Motorway: Entire route

A13 – Brenner Motorway: Exit Stubai

S16 – Arlberg Motorway: Arlberg Road Tunnel
Using the video based route toll, you can buy a ticket for any route and use it to drive through the open clearance lane or use the green marked lane. The lane is controlled by video. After your license plate has been recognized electronically, the barrier opens automatically.
You can purchase the video based route toll at tolltickets and thereby take advantage of the automatic check-in at the special toll stations. If you have purchased an adhesive annual paper vignette, you will receive a credit of €40 when you purchase an annual video toll card. For this you need the lower vignette section of your annual vignette! To do this, you must enter the bar code of a valid annual paper vignette in the input field. This code is located on the front of the lower section of the paper vignette. When you purchase the card, the license plate number of the passenger car is unlocked. As soon as you enter the automatic clearance lane with the registered vehicle, the license plate number is identified and you can pass the toll plaza without stopping.
Note
The video toll card functions in all open processing lanes! In addition, there are lanes marked in green which are reserved exclusively for video toll. The video toll lane marked in green can only be used by cars without trailer and a maximum width of 2m. If a vehicle is not recognised by the system despite a valid video toll card during the vignette check (e.g. dirty number plate), you will be directed out to another open processing lane. You can also order the vido based distance toll online while on the road. You always have your route toll ready on your cell phone. There is also the option of buying a digital vignette for the video based route toll at vending machines at various rest stops and border crossings. Payment is cashless or by bank/credit card.
What our customers say
Fantastic customer service and value for money!!
We have been using tolltickets for 11 years and just wanted to highlight how amazing a service they provide. We travel regularly through Italy, France and Austria and do not lose any time queuing - makes vacations stress-free. We have never had any technical issues, or packages lost, for over 10 years, great service.
Thank you all at the tolltickets team :)
Fantastic Customer Service.
We ordered well in time prior to our travel.
However due to postal strikes & brexit, they didn't arrive on time.
Tolltickets were very understanding, and very helpful. Everything was done via email. They respond almost instantly. I wish more companies were like them, The world would be a better place if everyone worked to their standards. Thank you so much for your prompt responses, 1st class Customer service and the politeness of your whole team. We will definitely use you again next time we need the tollticket machines. Kind regards, Mr & Mrs Watson
I have been using Tolltickets for the past 5 years and they have been consistently super efficient. Their customer service has always been very good and delivery of Swiss vignettes extremely prompt and have never had any problems with picking up my toll boxes nor any problems with paying the invoices.
We had been using the toll boxes for France and Spain from the company tolltickets for many years. Purchasing and installing the devices was very uncomplicated. The devices always worked perfectly at every toll station. The billing of the toll costs was carried out in a way that was absolutely comprehensible and was always correct. Within one day, we received competent, friendly and solution-oriented answers from the support team to inquiries by e-mail. Over the years we have always had a positive impression and can highly recommend this company and their products. We no longer need the toll boxes, but we would like to thank tolltickets for the very pleasant cooperation!
Franziska Steiner Wermuth
Have been using the transponder in Italy since 2020. So far there have never been any problems. Inquiries to tolltickets are usually answered promptly.
Within a week, the sticker was shipped to me, very fast! And what is, for any additional questions, very quickly answered, and well detailed. I would recommend later on this site. 👍🏼